If you own a small business, you should really think about local SEO for small businesses. Let's see why. Despite the fact that search engine optimization is always changing, it remains an important aspect.
Google's search algorithms are updated on a regular basis in order to provide consumers with the most relevant results. Local SEO has also had a huge impact in the digital realm. Local SEO for small businesses is an excellent way to increase their exposure. If you own a local business, you should target local customers by using Local SEO for small businesses. 
Several businesses overlook the significance of local SEO for small businesses. Then they question why their websites don't appear in the top three search results. Local SEO for small businesses can be an effective marketing technique for your company. Small businesses should ensure that their website appears in local searches to a suitable audience in order to develop their business. The targeted results are determined using location-based targeting.
For Example, Open Google on your phone and type in "best Italian restaurant." Do you see anything? The best Italian restaurants in India are rarely among the top results, and they most certainly aren't a part of a large chain either. They are frequently nearby, locally-owned eateries in your city that you are currently in. That is local SEO's strength.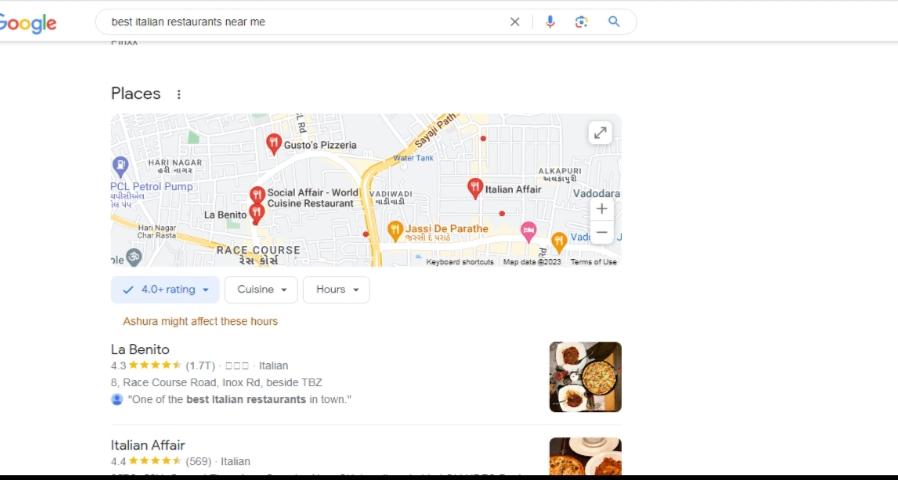 What Is the Importance of Local SEO for Small Businesses?
Local searches now account for nearly half of all Google queries. Even when someone conducts a routine everyday search, the likelihood of Google displaying local companies nearby remains high.
What is the significance of local SEO for small businesses?
From 2017 to 2019, Google recorded a 900% rise in searches rise for the keyword "near me today/tonight in searches for the keyword "near me today/tonight."
Google began giving more results for geographically-related searches based on: in an effort to better satisfy the demands of its searchers based on Proximity, Relevance and Prominence.
That is, if your business is close to where someone is searching, offers services or items they may be looking for, and has optimized local business listings, you are more likely to be found by potential clients.
Why Is Local Search Important?
If you're still in doubt, here are some statistics that demonstrate how crucial local search remains for businesses –
According to Google,

76% of smartphone users who conduct a local search visit a business within 24 hours

 , and 28% of those searches result in a purchase.

According to a recent local search poll,

61%

of consumers search locally every day.

According to a recent local SEO survey,

82%

of consumers check online reviews for businesses during a local search, and they spend over 14 minutes doing so before making a decision. So here the chances of them becoming customers increases. 

Worldwide,

74%

of in-store consumers who searched before entering the store stated they looked for items like [closest store near them], [locations], [in stock near them], and other hyperlocal information.

More than half of all Internet users globally conduct local searches on a mobile device.
How can Local SEO benefits small businesses ?
In addition to improving visibility in Google search engine results pages (SERPS), small businesses can benefit from investing in local SEO.
A Low-Cost Marketing Solution
While managing your business information in online directories takes time and work, you can often set up local business listings throughout the web for free with tools like Google My Business and Facebook, making local SEO a more cost-effective alternative for online promotion.
It makes it easier for local customers to find you.
72% of people who look for a local business go to a store within five miles. So, if your small business can be seen in local search results or on Google Maps, you have a better chance of collecting new leads.
Reaches Customers Who Are Interested in Purchasing
A stunning 80% of local searches conducted on mobile devices result in sales. This can be due to the fact that local SEO places you in front of the customer at the exact moment they're looking for a product or service, increasing their likelihood of purchasing or at least inquiring for additional information.
More Qualified Search Traffic is Delivered
Local search can assist you filter out searchers who are unlikely to contact your company. This isn't because search engines are attempting to protect businesses from customers, but rather because they aim to give relevant local results based on location and purpose. Someone 50 miles away is unlikely to find your HVAC company in a search, while someone just five miles away will.
How Can We Do Local SEO For Small Businesses?
The steps your small business can take to improve its exposure in local SERPs are less complicated than you would assume.Here are some of the most straightforward techniques to boost your efforts for local SEO for small businesses. 
Create Reliable and Consistent Local Citations
Local citations occur when your company's name, address, and phone number are published online, such as in a local business listing. Make sure that your information is correct and used in a consistent way wherever you add local citations on the web. This increases the trustworthiness of your data to search engines.
Include Your Company in Online Local Directories
Setting up local business listings in major search engines and online business directories such as Google My Business, Yelp, Yext, Bing Places, and Facebook makes it easy for search engines to check the legitimacy of your business and the accuracy of your data. (Once again, be certain that your data is precise and consistent!)
Optimize your website for Google My Business Profile
You can input your small business information directly into Google Search and Google Maps by creating a Google My Business page for it. Not to add, having a Google My Business account allows you to monitor business evaluations in Google, make rapid changes to your hours, and even communicate with clients via services such as Google Posts.
Google My Business has emerged as the pinnacle of local search. Google My firm is an outstanding tool for helping your firm satisfy Google's needs because Google willingly supports, verifies, and shares its own content.
To make sure you're ready for Google My Business, you should do the following:
Make a Google My Business page and verify it.

Within your account, use Google Posts.

Encourage your consumers to leave online reviews.

Respond to reviews truthfully, including your location. Taking the time to react to online reviews tells clients that you care and might help your local search rank."We appreciate your feedback on [product/service] in [city, state], for example." We appreciate your feedback and look forward to working with you again. Thank you on behalf of the entire [complete company name] team."
Make Hyperlocal Content Available on Your Website
Incorporating local keywords into your website material can have a significant influence. Having company identifiers like "dentist in [CITY, ST]" incorporated into your website content, for example, might help search engines understand not just what you do, but also which local locations you service. This implies that if someone in your region searches for "dentist near me," you're more likely to appear.
Do you need help getting started with local SEO?
Radian marketing can assist you with claiming, managing, and optimizing your local search presence. Learn more about local SEO and sign up for our Local Search solution today!
Frequently Asked Questions
Hire an SEO company to conduct a keyword research study so you know what is in demand in your location. If you run Google AdWords ads, you can utilize their Keyword Planner Tool to generate some estimations.
When keyword analysis shows that hundreds of people search locally for what you sell every month and you're not on page one.
This is determined by the company's objectives and requirements. Most local businesses who have done little-to-no SEO in the past will find that a 6-month campaign to complete all of the necessary changes at roughly $500/month is usually enough of an upfront commitment to see results for years afterward. It's also possible to do it for less if firms want to take their time with each step.
Google and Bing search the web to verify your business information, so make sure it's correct everywhere and your ranks will rise.
Some of the clients often reach page one in 3-4 months, although competitive keywords may take longer.